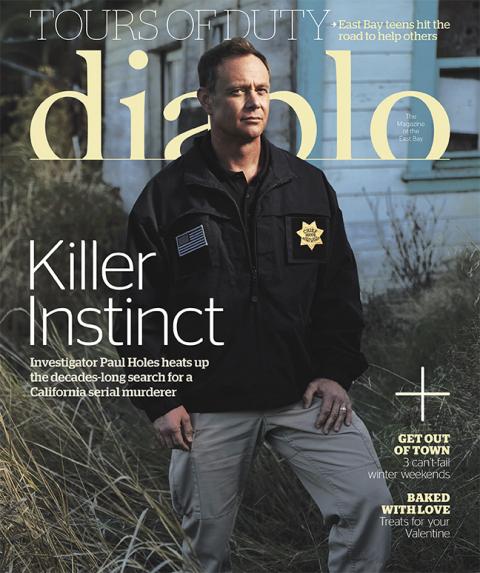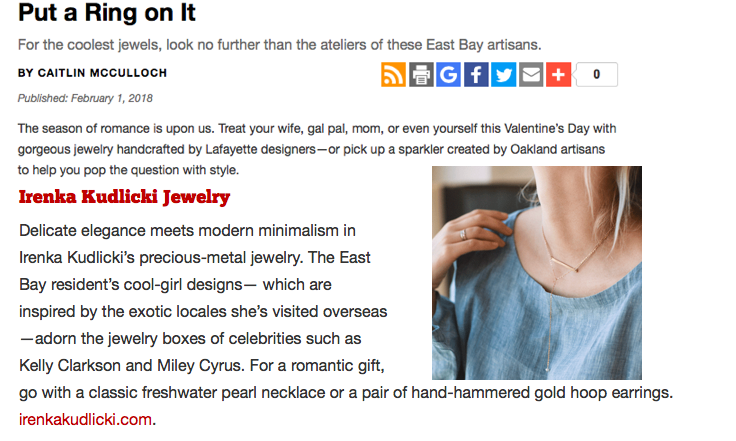 Diablo Magazine
"Delicate elegance meets modern minimalism in Irenka Kudlicki's precious-metal jewelry. The East Bay resident's cool-girl designs— which are inspired by the exotic locales she's visited overseas—adorn the jewelry boxes of celebrities such as Kelly Clarkson and Miley Cyrus. For a romantic gift, go with a classic freshwater pearl necklace or a pair of hand-ammered gold hoop earrings."
- Put A Ring On It, Diablo Magazine, February 2018 Issue
Valley Lifestyles Magazine
"We simply adore Flint by Lafayette-based Irenka Kudlicki. She's created a collection of one-of-a-kind, high-end jewelry pieces that retail from $300 to $1200, as well as more affordable goodies that sell for under $100. Kudlicki travels to Poland every few months to gather a rare form of striped flint (the company's signature). Think antique Bali beads with diamonds, tinyquartz Drusy crystals, and Tibetan pendants."
- Notebook, Valley Lifestyles V, March 2008 Issue
Alive East Bay
"Flint Jewelry (currently named Irenka Jewelry) is painstakingly handcrafted by an artist in the Bay Area... Many of the pieces are unique and one of a kind because of the antique stones used. Some other pieces feature rough hewn, unpolished semi-precious and precious stones, each with their own unique markings which only nature could have created. In addition to using the usual sterling silver and gold chains, Flint also makes use of unusual materials such as lather, suede, and silk."
- Fashions Alive with Alina B, Alive East Bay, November 2007 Issue